Fort Myers, FL, US
$15.00 per hour
Entry Level
Full Time, Temporary
Food and Beverage Production
None
Light Industrial
High School or equivalent
Second Shift (Afternoon)
Fort Myers, FL, US
$15.00 per hour
Entry Level
Full Time, Temporary
Food and Beverage Production
None
Light Industrial
High School or equivalent
Second Shift (Afternoon)
Apply Now
Applied
Job details
At Kelly®Professional & Industrial, we're passionate about helping you find a job that works for you. How about this one??We're seeking a 2nd Shift Bakery Checker/Loader to work at one of the nation's largest baking companies in Fort Myers, FL 33916.
Pay Rate:$15.00 per hour
Hours: Sunday, Monday, Wednesday, Thursday, Friday 3:30pm – 11:30pm
What's a typical day as a Bakery Checker/Loader? You'll be:
Responsible for the front-line distribution operations that perform various duties including moving stacks of product, using pick to light programs or voice activated equipment, filling orders to a route, loading and unloading trucks, etc.

Taking appropriate action to ensure the integrity and sustained certification of the food safety and food quality system.

Responsible for reporting and taking any necessary action to prevent food safety and food quality problems from occurring.

Responsible for following and enforcing procedures outlined in the Food Safety Plan and the Food Quality Plan and any other programs that support the SQF system and other 3rd party audits.
Requirements:
High school Diploma or Equivalent.

Ability to lift up to 50 pounds, stack and/or carry trays, push/pull stacks of product, etc.
8752880
I want more jobs like this in my inbox.
Share this job Copied url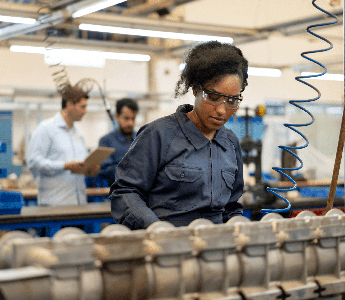 You should know:
Your safety matters! Visit the COVID-19 Resource Center for the latest information, policies, and frequently asked questions.
Get a complete career fit with Kelly®.
You're looking to keep your career moving onward and upward, and we're here to help you do just that. Our staffing experts connect you with top companies for opportunities where you can learn, grow, and thrive. Jobs that fit your skills and experience, and most importantly, fit right on your path of where you want to go in your career.
About Kelly
Kelly connects talented people to companies in need of their skills in areas including Science, Engineering, Technology, Education, Light Industrial and more. As advocates for the value of all workers and workstyles, we're united by our passion to connect people to work and support them in reaching their greatest potential. We directly employ nearly 500,000 people around the world and connect thousands more with work through our global network of talent suppliers and partners in our outsourcing and consulting practice.
Kelly Services is proud to be an Equal Employment Opportunity and Affirmative Action employer. We welcome, value, and embrace diversity at all levels and are committed to building a team that is inclusive of a variety of backgrounds, communities, perspectives, and abilities. At Kelly, we believe that the more inclusive we are, the better services we can provide. Requests for accommodation related to our application process can be directed to Kelly's Human Resource Knowledge Center. Kelly complies with the requirements of California's state and local Fair Chance laws. A conviction does not automatically bar individuals from employment.