Spanish Fork, UT, US
Experienced (Non-Manager)
Full Time, Direct Hire
Manufacturing - Other
None
Light Industrial
High School or equivalent
Second Shift (Afternoon)
Spanish Fork, UT, US
Experienced (Non-Manager)
Full Time, Direct Hire
Manufacturing - Other
None
Light Industrial
High School or equivalent
Second Shift (Afternoon)
Apply Now
Applied
Job details
 Direct Hire CNC Operator
Location: Spanish Fork, UT
Pay Rate: $25.00 – $32.75 (DOE) + $1,500.00 SIGN ON BONUS after 1st month and another $1,500.00 after complete 6 months.
 
Schedule:
Weekday Night Shift
– Mon-Thu 5pm-5am (Pay Rate + $2.00 HR) * 8HRs will be counted as OT 
Job Description
Set-up and operation of numerical control machines and machining centers including 4-5 axis mills. 




Studies blueprints, sketches, drawings, specifications or sample parts to determine dimensions and tolerances of finished product, sequence of operations and setup requirements. 




Measures dimensions and reference points on material as guides for subsequent machining




Enters commands to retrieve, input or edit computerized machine control media. 




Uses micrometers/other measuring instruments in order to perform quality control checks on parts in-process and upon completion. 




Perform necessary tasks and paperwork for the proper movement and control of parts and material in conjunction with manufacturing tracking system.
Requirements
3-5 years minimum experience in set up and operation of 4 and 5 axis CNC mills (i.e., Cincinnati, Fadal, Starrag, Mori Seiki, Mazak, Okuma, Fanuc, Yasnac).




Journeyman Machinist Certification a plus.




Familiarity with G Codes. 




Working knowledge of GD&T and standard measure tools.




Programming of 4 and 5 axis CNC mills a plus.




Able to operate multiple machines




Able to change fixtures and manage tool libraries




Machining and holding tolerances of +/- 0.001" to 0.0005"
Benefits 
Shift Differential for Off Shifts including weekends




Quarterly Cash Bonus Program 




401K Match 




Medical, Dental, and Vision Insurance




Gym Membership Program
Contact Maggie at 801-628-8588 or email at parksmm@kellyservices.com
APLLY TO START ASAP!
8783910
I want more jobs like this in my inbox.
Share this job Copied url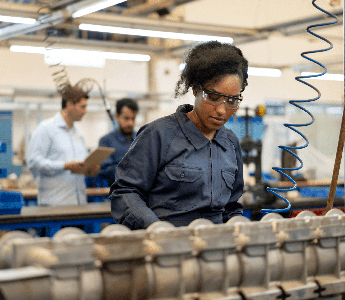 You should know:
Your safety matters! Visit the COVID-19 Resource Center for the latest information, policies, and frequently asked questions.
Get a complete career fit with Kelly®.
You're looking to keep your career moving onward and upward, and we're here to help you do just that. Our staffing experts connect you with top companies for opportunities where you can learn, grow, and thrive. Jobs that fit your skills and experience, and most importantly, fit right on your path of where you want to go in your career.
About Kelly
Kelly connects talented people to companies in need of their skills in areas including Science, Engineering, Technology, Education, Light Industrial and more. As advocates for the value of all workers and workstyles, we're united by our passion to connect people to work and support them in reaching their greatest potential. We directly employ nearly 500,000 people around the world and connect thousands more with work through our global network of talent suppliers and partners in our outsourcing and consulting practice.
Kelly Services is proud to be an Equal Employment Opportunity and Affirmative Action employer. We welcome, value, and embrace diversity at all levels and are committed to building a team that is inclusive of a variety of backgrounds, communities, perspectives, and abilities. At Kelly, we believe that the more inclusive we are, the better services we can provide. Requests for accommodation related to our application process can be directed to Kelly's Human Resource Knowledge Center. Kelly complies with the requirements of California's state and local Fair Chance laws. A conviction does not automatically bar individuals from employment.