Mohamed Shariff – A rising star in biomedical science
Reading Time:
3
minutes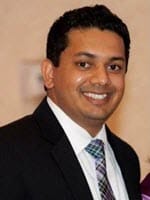 To say that Mohamed Shariff is an overachiever is an understatement. With a Master's degree from Rutgers Graduate School of Biomedical Sciences, Mohamed is a young man well on his path to becoming a significant contributor to the medical industry. And one of the most critical springboards to that success has been Kelly Services.
"I WOULDN'T BE HERE IN THIS AMAZING PROGRAM AND THIS AMAZING ROLE, WORKING ON IMPACTFUL PROJECTS, WERE IT NOT FOR THAT PROGRAM AND WHAT KELLY SERVICES OFFERS. THEY PROVIDE A CRUCIAL ROLE IN OUR EMPLOYMENT ECONOMY TODAY."
"I was researching internships," Mohamed said, describing how he first connected with Kelly Services. "At that time, my brother was working at a major pharmaceutical company. I went on their website and saw several internship positions posted. I applied online and received a call back from Katie, a Kelly recruiter. Katie helped Mohamed secure the interview. After a rigorous interviewing process Mohamed was selected for the paid internship position.
After successfully completing his first internship, Mohamed was chosen for another internship opportunity at the same biopharmaceutical company the next year. The invaluable work experience he gained via his internships has given Mohamed the skills and experience needed to land a full-time position with a global healthcare organization where he is involved in the company's Regulatory Affairs Leadership Development Program. Through this program Mohamed is able to continue to build his track record of leadership, business acumen, and regulatory expertise.
Listen to Mohamad's story in his own words.
Originally a Finance and Economics major, Mohamed's gravitation to the medical industry was a result of two unique influences: his parents and the U.S. economy. "I have two siblings who are dentists and their spouses are also dentists," Mohamed said. "My parents are both physicians. I also have a brother in the pharmaceutical industry. I was the only one who was doing something completely different."
The economy also played a part in his eventual decision to pursue the field of biomedics. Mohamed saw this field as a dual opportunity – to build a future with greater security while answering an inner call he found hard to ignore.  "I realized that I really like helping people," Mohamed said, "but I wasn't living up to my true potential. I want to work on projects that have meaningful impact to patients, this is one of the few industries that can really change countless lives. To be a part of that is an awesome feeling."
Working with two Kelly Services internship program representatives, Sara and Jessica, Mohamed received career training and planning that aided him in his pursuits. "I wouldn't be here in this amazing program and this amazing role, working on impactful projects, were it not for that program and what Kelly Services offers. They provide a crucial role in our employment economy today."
Looking ahead to what the future holds, Mohamed is optimistic – but stops short of actually settling on any singular direction, instead keeping his mind open to the innumerable possibilities that he hopes to discover.
"I'm not even going to try to predict the next five years," Mohamed said. "I want to build a reputation for being an individual who's driven by my passions."
We have no doubt that Mohamed will accomplish his goals.
Discover thousands of temporary, full-time, and remote jobs for beginning and experienced job seekers.